Day 14. It's the final day of the skincare trial!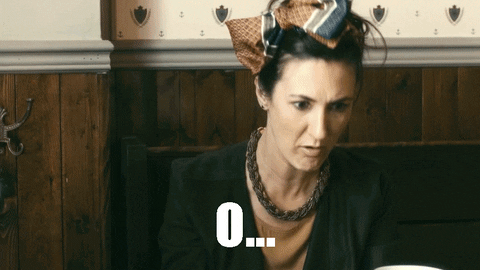 What did I think? How did the clay, oil and spray turned out? What does my skin look like now?
If you're curious about the journey here are the links to day 1 and day 7.
Let's get down to business. Here's what my skin looks like on day 14:
I've been using a spot treatment of the clay on my blemishes. If you've been keeping track, day 7 showed some large acne on my nose and cheek. Not from the product itself, just from general hormones. I felt those whoppers coming a mile away – just before I started the trial – but I wanted to take some photos and was curious if this natural skincare routine would help reduce the duration of my acne.
The spot treatment was just the clay and a little bit of water. I left it on my nose and cheek for about 10-15 mins. I've been using the spot treatment of the clay every day for the last seven days.
Don't look at how tired I am! Those bags ain't designer. But look at that zit! It's barely noticeable now! When I still occasionally get acne, it normally lasts about two weeks before it starts reducing in size. The one from last week was so sore and raised – hormonal acne is darn painful. I'm super happy how it's turning out. It's almost gone already, just a little discolouration, which is normal. HUGE tick for the spot treatment!
If you're too lazy to go back to the blog post from day 7 (I feel ya, I wouldn't want to go back either), here's a before and after pic.  The top is "before", the bottom is "after" :
Now to my forehead. It's so clear! See day one
Before it was covered in little blemishes, had heaps of dry spots and some pesky psoriasis that was starting to flare up. But as you can see, my forehead is looking pretty smooth!
I had another blemish on my cheek on Day 7. Top is before. Bottom is today.
It's almost all gone now. Very slight discolouration from the former blemish, but this should disappear very soon. Picture below is of my neck. The psoriasis is barely visible. I've just been using the rosehip oil on this, it's been working a treat.
How did I choose what products would work for me?
I think it's important to know your own skin and do a little bit of research. My skin is a little odd. It's combination skin: dry and oily, and also I have this little itchy skin condition as well. As a result, I used a combination of rosehip oil and jojoba oil.
I did not use the rosehip oil on all of my face – only on my forehead and cheeks. While rosehip oil is a natural source of vitamin C, helping to improve the appearance of pigmentation and restore skin's tone, it isn't so good for acne prone skin. It could clog your pores. There's even a little disclaimer on the bottle for it.
As a result, I used jojoba oil around my nose and chin. These are the areas were I'm prone for hormonal acne and where I have larger pores. I rarely get acne on my forehead or cheeks – just the occasional blemish here and there.
Ultimately:
Rosehip oil = great for uneven skin tone, wrinkles and psoriasis
Jojoba oil = great for acne and psoriasis
In terms of the clay, I chose the "Pink Clay & Rosehip"
This is great for "sensitive" skin. Pink Clay masks do not remove the skin's natural oils, making it perfect for dry and dehydrated skin. I suspect this is why it also helped with my acne. Stripping the natural oils from your face actually makes your acne worst. Your skin produces excess sebum (and as a result, clogging pores) when you use harsh toners or cleansers that remove the oils from your face.
The orange hydrosol spray is suitable for sensitive, oily, dull, eczema or acne-prone skin. Hey! That's me! Honestly, it's probably suitable for most skin types. I really love the smell of this and I felt a little fancy spraying it on my face. I'm not 100% sure if I'm meant to spray this before or after I've applied the oil. So, I applied this before the oil. Like the rosehip oil, the orange hydrosol spray is meant to tone and calm the skin. Super handy when you have those painful blemishes. Make sure you store this in a dark and dry place!
My ratings of each product below:
Pink clay & Rosehip = 5 stars out of 5 (I was actually going to give this a 4 initially, due to the staining incident, but I'm super happy how the spot treatment of the clay helped with my acne. I'm amazed at how it help reduced my acne so quickly)
Rosehip oil = 4.5 stars out of 5 (The oil itself is a 5, it really helped with the over tone of my skin. It definitely looks brighter and clearer. I'm happy with how easily my skin absorbed the oil. I'm taking 0.5 star away because I'm picky and would have loved a lid that was a dropper. It would have made the application of the oil a little easier)
100% Pure Hydrosol Orange = 4 stars out of 5 (The spray felt super refreshing on my skin. In terms of reducing the duration of my acne, I'm not 100% sure if this helped – I suspect the clay and oil did most of the work there. However, I have been using the spray every day, just before bed. The purpose of this spray is to help with uneven skin tone, and my skin tone is definitely more even)
Overall I'm over the moon at how the products have turned out. Particularly how it's helped with my blemishes, acne and psoriasis. My skin is a triple threat (in a bad way), and it can be super temperamental when I introduce new products, so I'm glad I've found a product that's worked for me. (Plus the bottles are recyclable! Or you can refill them in store). Keep in mind, everyone's skin is different. Your environment, DNA, the food you eat and mood – it can all have a "negative" impact on your skin.
If you're interested, you can find the range of Biome's products here, they have a range which you can tailor to your own skin type. Wish you all the best!