Oh, this "weekly" ethical underwear series, isn't really weekly isn't it? More like fortnightly and to be honest that's probably more attainable between my working, loner and sleeping hours! My problem is I have ideas and make too many of them at once. Then work or life or solitude gets in the way and I feel guilty about not committing to my "ideas" completely or to the desired schedule! I mean, I think I said I would have my cracker recipe up three times now (three or four Mondays ago) and still no cracker recipe is up. Any who, I'm rambling again and this is a "review" blog post!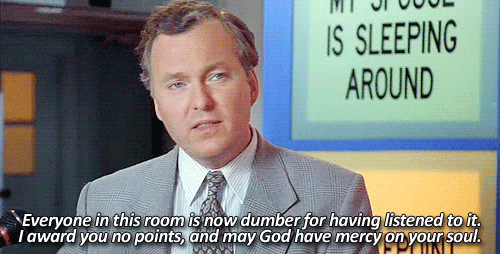 This week I'm reviewing an Australian label!
You can view Hara The Label products: here
Again, I should note that while I have received these samples at no monetary cost of my own, I'm not getting any a commission out of this. I reached out to companies I felt were ethical and open with their processes. And companies I thought you would be interested in.
Blah, blah, blah. Down to the details!
Firstly, I wish! That isn't my butt!
I trialled three items from Hara The Label range:
> g-string – https://www.harathelabel.com/products/charcoal-eva-g-string
> low cut bra – https://www.harathelabel.com/products/charcoal-stella-low-cut-bra
> low waist undies – https://www.harathelabel.com/products/charcoal-maya-low-waist-undies
One of the things that I really like about the Hara Label is that they use sustainable and natural dyes, and it's all made in Melbourne, Australia. The founder is Allie Cameron.
Allie was travelling through India and was horrified by the chemical run-off into the rivers. I asked her if she was always interested in sustainability, or if it was this particular moment that spark change within herself.
"I believe in Nature. I feel so deeply that we are the environment that we live in, it is our home so to support the earth and work with it not against it is supporting ourselves, is turning to ourselves and saying I love you enough to care. When I am in nature I feel overwhelmed by the beauty and then when I turn to see destruction happening against it, it's confusing but it motivates me to keep fighting for it. I see the fashion industry heading in a direction that is in no way in support of the environment we live in and I knew that there was something I could do that could help this. I have always been interested in living in align with our natural state and with the planet and HARA is a manifestation of this desire."
When browsing through Hara The Label website, one of the things that struck me of the use of "real" humans! Yes, models are real, but sometimes they're also photoshop. I love how stretch marks, bruises and hairy armpits weren't photoshopped out. I asked her if this was a no brainer?
"All women are beautiful in their own form. We are here as a community, to empower women to love themselves, be themselves, love the human body and care enough to care what we put on it. For too long now we have been told the same story over and over again on what beauty looks like, how we should act, what we should say, and its old news, it's tiring and we are in a new age where we have come to the realisation that beauty is on everyone and why not celebrate that.
Feminism for HARA is a movement to empower women to release their inner flame and be who they are with no guilt/shame. To be who you are, love who are you without having to explain yourself. To find the trust within yourself, to surrender to yourself, to turn to yourself and say I see you and I love you."
Sizes range from XS to XL. I'm normally a size 6-8 (Australian) and chose a small, in the top and bottoms. This actually was a perfect size for me! So, it's fairly true to size.
All of their products are naturally dyed, cut, sewn, packaged and shipped in Melbourne, Australia. So, that's a bonus for any Aussies out there 🙂
Here's a photo of one of their workers!
Okay, okay, you probably want to know how the underwear went?
Tests are below
.
.
.
The first wash test: If you read my first instalment of the series, you know that I always wash my underwear before I wear it. Mostly, because you know. Germs. (Even if there aren't any, I can't get this out of my head!)
I wash all my underwear in a cloth laundry bag in the washing machine. I may have time to cook a few things from scratch, but I don't really have time to wash my undergarments by hand!
After the first wash they turned out good. The steams didn't come apart and the colour didn't fade.
The first try test: The first thing I noticed was that unlike the White Rabbit underwear, it wasn't as soft. But unlike the White Rabbit underwear, I feel this great for the "active" human. I wore the underwear on a 5 hour hike and they were super comfortable and I felt "supported" in my butt and also le' boobs.
I got the small in the bralette and underwear. I feel as if they are truer to size than the White Rabbit one.
The jeans test: Wearing tight jeans are fine. I couldn't really see the "line" underneath my jeans, which is a bonus. Plus the underwear didn't feel uncomfortable or bunched up. Wearing the g-string showed no line at all. Although I have to admit it kinda felt funny near my vagina region – BUT I don't ever wear g-strings, so perhaps those who wear it more often than I do might have a more comfortable time wearing it in tight jeans
The dress test: you can see a big line in the dress from the bikini cut underwear. It grabs at the butt cheeks more, which to be honest makes it great for a "workout" underwear and it kinda supports you, and won't ride up your bum. So, I also tried the g-string to see how it went underneath a dress! No lines, it looked like I was wearing nothing, which is the point? I'm still not a huge fan of g-strings in general, but I can see it's purpose. I even slept in it overnight and didn't have a sleepless night pulling at the string, so that's good considering I felt so uncomfortable in the tight jeans. So conclusion…if you're a frequent wearer of the dental floss underwear, then you'll probably find it super comfortable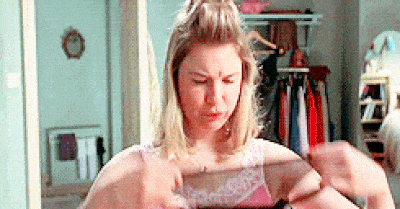 The strap/support test: Again, I can't really give a test on "support" because I don't have a big chest. But the bralette had a really good "fit" and for me, there felt like a lot of support.
The sitting down all day test: Not much to say here. It's pretty darn comfortable!
The itchy breasts test: Yeah, this is still a weird test! But what better way to test if a "bra" is comfortable? I wore the bralette/bra on a 5-hour hike. It was hot and I was sweating. I tell ya, I'm not a sweater, but walking up a mountain and pulling myself up a rock wall was pretty tough. The great thing is, I didn't feel this bralette/bra at all. AT. ALL. This is huge for me! If I've been working up a sweat for hours, like hiking, a bra normally always makes my boobs super itchy. But this didn't! 😀 And it was very strange not scratching my boobs while hiking!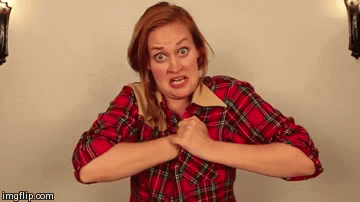 The one month test: Stay tuned! I'll follow up with this in a month and see how the quality holds up.
I don't really want to give it a rating until I know how the quality holds up. But so far it's looking really good. It's a really simple day-to-day underwear. I love how it's been naturally dyed, so you know there isn't any funny business going on
Next up I'll be reviewing Nisa – Ethical Underwear (a New Zealand brand!)