*This post doesn't contain any affiliate links. So, give the little guys I mentioned in this blog post some support if you can 🙂*
Today I'm sitting down and trying to write this blog post about sustainable style brands. That line was over a week ago, okay two weeks ago and now I'm back on the seat trying to write this post. It's not that I don't want to write it, I'm just not 100% sure how I can word this. If you're interested in low or zero waste you probably know that shopping second-hand is the most sustainable way to shop. Or if you really want to get granular, the most sustainable way to shop is to not shop at all. But, I'm not about that monk life or any life that requires complete perfection or martyr hood. I'm about betterment, progress and the dirty reality of how freaking human we are. But that isn't really catchy and I've gotten way off topic once again!
First off, op shops are great. But where I live, op shops aren't that great. (Op shopping in the USA when I was there a couple of years ago was AMAZING). I do find a few gems here occasionally, but they are rare. And often when I do op shop, I find myself buying items which are kinda okay and cheap but not quite what I want, so I never end up wearing them.
The important thing is to find items you like and will wear or utilise on a constant basis – whether new or second hand or even fast fashion.
What? Did you read right? I'm not against fast fashion?
Well, I am and I'm not. I'm not deluded. Sometimes, this is all a person can afford or all they have access to. And if you're not a tailor than alternations can be expensive if you can't find your size second-hand.
I personally haven't bought items of clothings from fast fashion chains like Zara and H&M for quite some time. I'm in a very fortunate position where most of my items are mostly from sustainable or ethical brands. Meaning, yes, I do spend more money on an item, but I also spend less in the long run as well.
This is probably why my closet has remained relatively small over the last 3-4 years. Of course, not everyone can afford quality and ethical clothing, and I don't advocate for being perfect. So yeah, I have nike shoes and old adidas gym gear – not everything I own is ethical or sustainable. Heck, I'm typing this post blog on my Mac laptop!
Is that privilege? You betch ya, but lets leave all the privilege talk for another blog post.
I understand most people can't afford the price tags of some ethical brands, particularly outright. But for those looking to spend a little more on a special item and those who can afford ethical brands, I've outlined five of my favourite small and ethical clothing brands. I even reached out to them to ask some questions and received a few photos of their factories! Because, I know how much we like a perv at someone else's fridge or pantry or workplace or factory!
This is probably my favourite brand of all time. I love their quirky yet timeless pieces. The quality is so good. I've had tops which are over 6-7 years old and they're still in fantastic condition – even though I wear them to bits.
They're a small New Zealand brand. They have both classic and quirky pieces which I feel fits my personality perfectly…if I do say so myself (full of myself much?) They were actually one of the first "ethical" pieces that I bought, and I was honestly hooked straight away due to their fitting and quality.
Here is a photo of some of the first pieces I purchased! (It took a few years to get that many and I have a couple more pieces now. I probably make one or two purchases from them a year)
2. Fauxgerty
First up, I'll say these guys are probably one of the nicest people. But better yet, their collection is made from deadstock fabric. Deadstock fabric is fabric that is destined for the bin. In other words, it's excess and leftover fabric from other brands, who buy more than they might need. These are fabrics often get lost in huge warehouses, and because of that it eventually ends up in landfills.
So, it's great to see more and more companies using deadstock fabric.
Like Twenty-Seven Names, I love their pieces. I love that it's a combination of classic and fun. And similarly, they don't really follow fashion trends. They've got their own little style which is so important.
I really wanted to know what made Chrissy (the owner of Fauxgerty) start her company. After all, Fauxgerty is still a rather new company, first starting in 2013.
What was the catalyst for Fauxgerty?
I started hearing about fast fashion and the more I learned, the more I wanted to create a better option. As someone who really enjoys playing with fashion and curating a collection of pieces I love, I wanted to offer a brand that was more than just basics, but playful and adaptable to a variety of lifestyles.
Here are some photos of their workshop!
The first item I ever purchased an item from Fauxgerty, I clearly have a thing for black and white checkers!
3. Whimsyandrow
I only recently stumbled across this brand and I got to say I've already worn these olive pants a number of times (picture below). They fit like a glove. Honestly. I feel like I want to purchase everything off their line, so, you know I'm showing a lot of restraint just purchasing one item.
The picture below is of the Flora pants. Seriously, get on them. They're the fraction of the price of Jesse Kamm pants and the quality is great!
Like Fauxgerty, Whimsyandrow is a sustainable clothing brand that uses deadstock fabric.
I asked Rachel the owner of Whimsyandrow – what was the catalyst for starting up her brand:
I went to school for Fashion Merchandising & Design at San Francisco State and sustainable fashion was intertwined into our curriculum. I inevitably became obsessed and knew if I ever started a brand it would tread lightly on our planet. After I graduated I couldn't find a job at an eco-friendly brand, so was forced to work for brands that didn't follow my ethos. It was eye opening how dirty and harmful the garment industry really is, I was able to see it's true colors from the inside. Finally fed up after 3 years working for awful people and brands I didn't believe in, I launched Whimsy + Row!
What did Rachel do before this?
Before I started Whimsy + Row I worked at Stitch Fix and then a small contemporary brand in LA called Sloane Rouge that did private label for Anthro and Free People. Stitch Fix I learned everything I needed to about operations, styling and customer service. Sloane Rouge I got to do so many things from social media to production and photo shoots that these experiences gave me great connections and skillsets that I still use today. 
Here's a photo of their workshop!
4. Tasi Travels
Aussie, Aussie, Aussie. Yeah, nah, I ain't going to finish the rest of that.
Next up is Tasi Travels, a little local brand made in Australia!
Below I have a picture of a jumpsuit I purchased last year. Every single time I wear it I get a compliment. Of course, you shouldn't base your purchases on compliments, but I'm human and you know. Those compliments make me feel good!
If you're looking for an Aussie brand making simple but quality pieces, then definitely check out Tasi Travels. (Their items are also made in Australia!)
I asked the owner a couple of questions about her company.
What was the catalyst for Tasi Travels and what did you do before starting up the company?
Tasi was inspired by a trip I took to Timor-Leste in late 2016. Timor is an incredible country, but I'd struggled to pack for the very hot and humid climate, but conservative culture. Nothing I owned was right, it either wrinkled or was too thick or the cut wasn't appropriate. I realised how hard it was to find practical, versatile, well-made travel clothes. I came home from the trip and got started straight away. Prior to Tasi, I was working in marketing and design for a wellbeing brand, which I continued to do for another two years after this. Tasi was also my second business, I co-founded and ran an independent publication called Tidal Magazine when I was 18, which ran for four years.
What are your thoughts on greenwashing and the fashion industry – and how Tasi Travels stands apart from these companies?
Greenwashing is a major issue in the fashion industry and it makes it really difficult for consumers to make conscious decisions, when they're being fed misinformation. Part of the Tasi brand has always been transparency, and from the very start we have always shared images of our team, told our story, showed where and how our clothes are made, talked about the fabrics used and so on. I actually had no prior experience in the fashion industry before Tasi, so I'm learning a lot too, and as I learn, I share this with our customers. It's an on-going journey together. All Tasi pieces are made in Australia and we use sustainable textiles, as well as positive environmental practices in our office, in the way we package and ship our orders, and in our brand partnerships.
5. Good Studios
Another local Aussie brand!
I stumbled upon this brand because Biome launched a slow fashion section at their stores and I was really curious what type of brands they were stocking. Good Studios is made in Australia and use only natural materials, predominantly hemp and linen.
I purchased a classic black dress and a pair of mustard shorts (as pictured below!).
Obviously, this isn't a picture of me! I'm Asian. But I don't see colour, okay? Okay, well, now I've made this awkward. SO! We shall skim over that awkwardness. The photos above show how the dress sits and the photos I took weren't fancy enough to post. Mostly, because I didn't realise how messy my room was when I took the photo and I honestly couldn't bother cleaning up the room and retaking the photo. So, you get some photos I stole (I mean borrowed) online.
I love the black dress, it's simple and I can wear it back to front or front to back! The mustard shorts are a nice pop of colour and I'm really looking forward to wearing them in the summer. I find their sizes do run small. I'm normally an extra small, and I purchased a small. I couldn't fit into the shorts while on my bloated ass period, but could fit into them when I wasn't bleeding from my hole.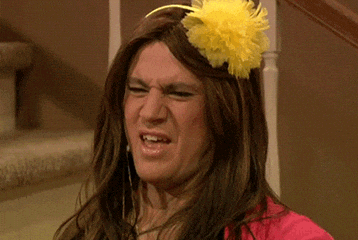 Well that got graphic. But you get the point! Go a size larger if you're checking out Good Studios. In terms of all the other brands I mentioned above, they are pretty true to size and even have actual measurements for each garment which is super super handy.
Any who. That's it. Those are my favourite 5 small sustainable style/fashion brands! What a mouth full! You probably noticed that each brand doesn't follow a fashion trend, but follows a style which is unique to the brand itself.
Please check them out if you're on the market for some nice threads. They're producing quality clothes but are still small brands – so your support will definitely help!